Name        Kaiten Patissier 1.00 PSP
Version     R1
Original    Developed by D.K. aka Alpha Secret Base /
            http://maglog.jp/alpha-secret-base/index.php?module=PB
            Level Support by oranda / http://www.indiegames.com/blog/
Platform    PSP (Custom Firmware)
Dev-Details Ported to the PSP using SDL
---
Description
Indiegames.com describes it best:
"Kaiten Patissier is the latest game from D.K., several months in the making, and which I [oranda] highly recommend. It uses the same 'collect-them-all' mechanic as Good Luck Natsuki, but is built entirely around the concept of rotating the levels to re-adjust the locations of platforms, boxes, walls, floors, and ceilings (Kaiten is Japanese for "rotate"). After collecting all but the last item in each level, a bonus item will appear somewhere in the level, so be sure to keep an eye out for the bonus items if you want to get 100% completion.

As I [oranda] note, I [oranda] contributed several of the levels in the game, so you'd better download it and check it out!"
Video
Screenshots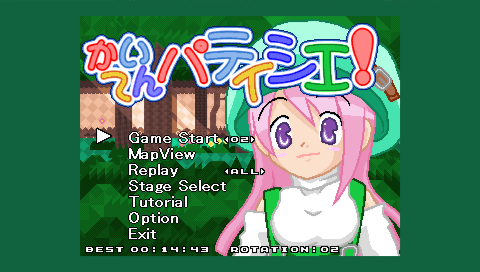 Screen 1: Main Menu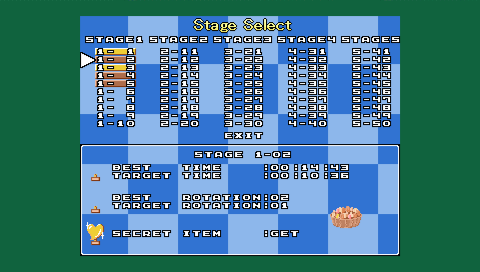 Screen 2: Stage Selection and Overview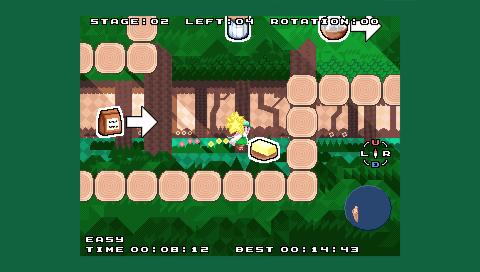 Screen 3: In-Game, jump around and collect items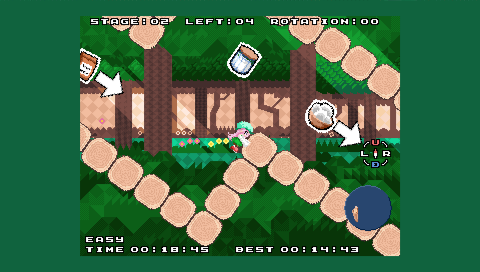 Screen 4: In-Game, rotate the whole level about 90 degrees

Download
via mk2k.net (including source)
get the original Windows/Linux/GP2X release via indiegames.com or at D.K.'s website
Notes
Read the readme.txt for installation notes and button configuration.