Name        Sleep'n'Wake
Version     1.99b MULTi 8
Platform    PSP (Custom Firmware 3xx/4xx)
Dev-Details Developed in C, uses OpenAlarmLib by Mr305
---
Description
Sleep'n'Wake is THE app for dozing off to your favorite music playing silently and getting waked up again with the music you chose, this time with the volume maxed to the system volume setting on your Playstation Portable.
New in this version
The current version 1.99b adds compatibility to Custom Firmware 3.xx and 4.xx by utilizing Mr305's OpenAlarmLib as well as fixes a bug in snooze mode for AM/PM time users.
Features
Full support of cbr/vbr/abr 8kbps-320kbps 44.1kHz MP3 of arbitrary length
Playlist Management for sleep and wake lists
Set a special more silent volume for sleep mode
Time settings for wake up, fade in and sn00ze
Utilization of OpenAlarmLib by Mr305 for Suspend/Resuming the PSP and thus saving a lot of battery power
Multilanguage Support (EN_DE_FR_IT_NL_FI_PT_PT-BR)
Screenshots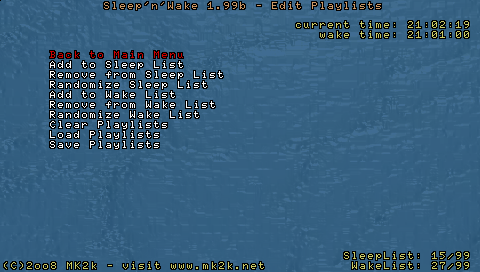 Screen 1: In the menus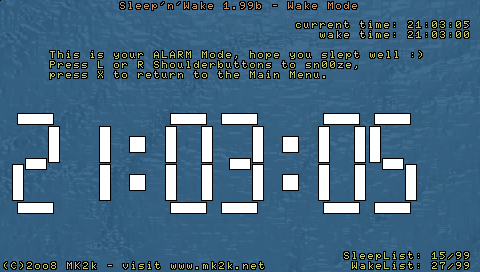 Screen 2: Wake mode screen
Download
Notes
Read the readme_EN.txt or readme_DE.txt in the download for more infos!